Tarja Turunen´s 'Feliz Navidad' (Solo Version) Official Music Video – from 'Spirits and Ghosts'
Tarja's new album "from Spirits and Ghosts (Score for a dark Christmas)" is out now!
Get it here:
►Official Store for a dark Christmas: https://tarja.tmstor.es
►CD: http://smarturl.it/Tarja_FromSpirits_CD
►LP: http://smarturl.it/Tarja_FromSpirits_LP
►iTunes: http://smarturl.it/Tarja_FromSpirits_iT
►Spotify: http://smarturl.it/Tarja_FromSpirits_Sp
►Apple Music: http://smarturl.it/Tarja_FromSpirits_AM
►Google Play: http://smarturl.it/Tarja_FromSpirits_GP
►Deezer: http://smarturl.it/Tarja_FromSpirits_Dz
Who is Tarja Turunen?
Tarja Soile Susanna Turunen-Cabuli (born 17 August 1977), known professionally as Tarja Turunen or simply Tarja, is a Finnish singer-songwriter. She is a soprano and has a vocal range of three octaves.[1]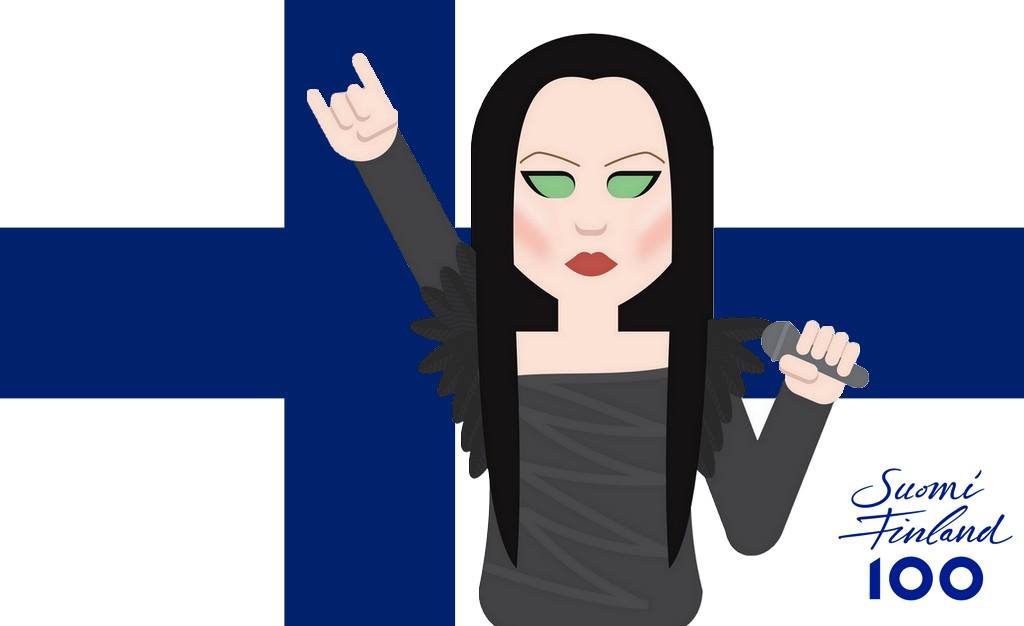 Hyvää Itsenäisyyspäivää!

Today Finland is turning 100 years old… time to celebrate! Happy 100th Independence Day Finland!
Turunen studied singing at Sibelius Academy and Hochschule für Musik Karlsruhe. She is a professional classical lied singer, and the former lead vocalist of the Finnish symphonic metal band Nightwish, which she founded with Tuomas Holopainen and Emppu Vuorinen in 1996. Their combination of hard and fast guitar riffs with Turunen's dramatic, "operatic" lead vocals quickly achieved critical and commercial popularity. Their symphonic metal style, soon dubbed "opera metal", inspired many other metal bands and performers.
More info.: https://en.wikipedia.org/wiki/Tarja_Turunen
Humanitary #cause:
"With Christmas only being [ 24 ] days away, earMUSIC and Tarja are proud to announce the release of a very special version of "Feliz Navidad": the Barbuda Relief And Recovery Charity Version.
This September, the Caribbean island of Barbuda has been hit by the category 5 hurricane Irma. The whole population of 1,800 needed to flee their homes in order to survive. Tarja, who has recorded the main part of her vocals for her recently released winter album "from Spirits and Ghosts (Score for a dark Christmas)" on said island and has a very close relationship to the place and its inhabitants, decided that now is the time to help.
Together with friends and fellow musicians such as Michael Monroe, Doro Pesch, Tony Kakko (Sonata Arctica), Elize Ryd (Amaranthe), Marko Saaresto (Poets Of The Fall), Timo Kotipelto (Stratovarius), Simone Simons (Epica), Cristina Scabbia (Lacuna Coil), Joe Lynn Turner, Floor Jansen (Nightwish), Hansi Kürsch (Blind Guardian) and Sharon Den Adel (Within Temptation), Tarja created a new version of the Christmas carol "Feliz Navidad".
All incomes generated will be donated, with earMUSIC doubling the amount."
'Feliz Navidad' Charity #Album:
http://tarjaturunen.com/this-christmas-you-can-expect-the-unexpected-2/
Tracklist:
Side A
1. Feliz Navidad (Barbuda Relief And Recovery Charity Version)
Side B
2. Feliz Navidad (Album Version)
[ "from Spirits and Ghosts (Score for a dark Christmas) ] Album #reviews:
http://www.tarja-fromspiritsandghosts.com
Store for a dark christmas (#music & #merchandise):

Appreciated and shared by:
Links:
B&G Consulting: https://goo.gl/LmbXMP
Blog: https://bgcoaching.wordpress.com
Online profile: https://remote.com/luiz-botelho
SlideShare: http://pt.slideshare.net/LuizBotelhoMJCSMA
Papers for Download: https://espm.academia.edu/LuizBotelho
Art: https://www.behance.net/lubashivay0935